How to Blitz with Purpose Using HUDL Beta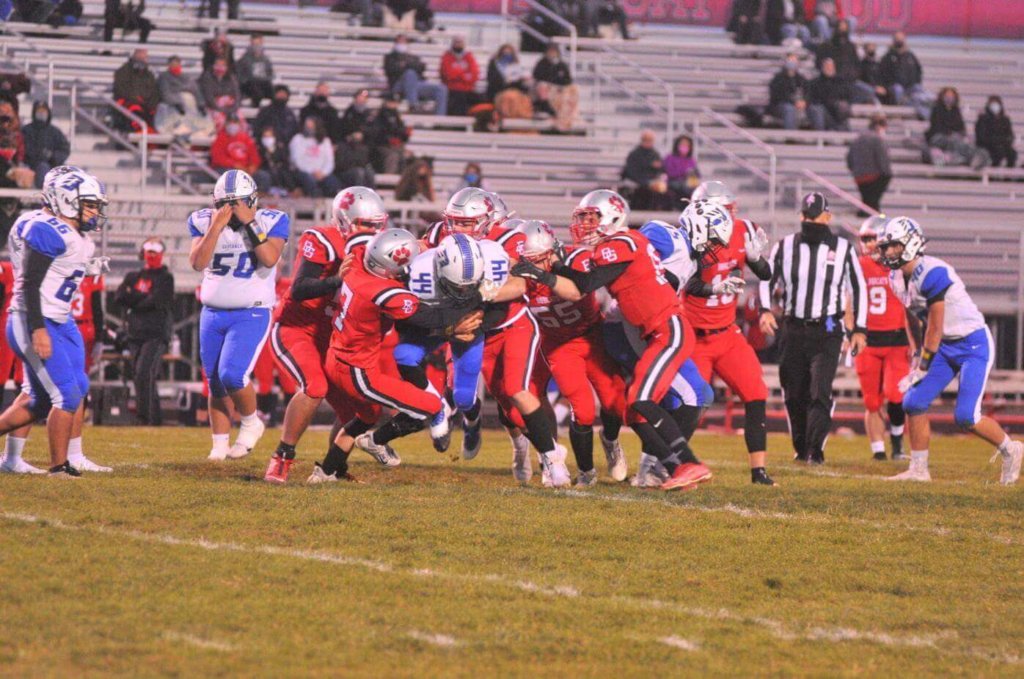 Dialing up blitz pressures should be calculated, not at random. With the use of Hudl Beta, we've been able to identify favorable situations for our defense to blitz against.
In a COVID-19-shortened season this past spring, our defense tallied 11 sacks and 8 tackles for loss in five games through blitz pressures. A major part of generating pressures was understanding offensive line movement on later downs, and run tendencies in early downs.
Setting Up Hudl
The Hudl Beta user interface made displaying the information to the defensive staff a seamless process.
The first thing we do is create a new column in the data set. You can do this by hovering the "Team" menu item and selecting Team Settings.
Next, we're going to add a data set called "Line Slide". We make it available to our players, so they can also understand the slide protections.
​
​
​
​
Adding the Data
Inside the line slide data set, we'll add 7 different line slides as our values. We identify these line slides as:
Full — A full line slide with the running back taking the end man on the line of scrimmage
Half Line — Half zone slide to one side, with man protection on the other side. The running back supports the man side
BOB — Big On Big protection. Lineman are responsible for down lineman and running back supports blitzes or any linebacker pressure
Boot — We identify this as a play-action boot with a guard pulling to protect the boot side
Naked — Play action with no guard pulling. The quarterback is left unprotected.
Sprint — Full slide with RB leading protection
Screen — Any RB or WR Screen
Now that you've added the data set, now you'll need to make it live into your Hudl playlist. In the middle of your screen, you'll see "Columns". Click it then click "Manage Sets". From here, you'll be able to add your "Line Slide" column to the data set.
​
​
​
​
Now that our data set is added, we need to identify what kind of protection we're getting from the opposite team. Most high school teams will carry 2-3 protections into a game.
Identifying Tendencies
A big indicator of pass protection is where the running back inserts.
There are 2 main insert points we look at as a staff:
Inside: Half Slide or BOB
Outside: Full Slide, Sprint, Boot/Naked (Depending on the action of the RB)
To access the line slide data in Hudl Beta, scroll all the way down to the bottom of the data sets on the right side and you'll see a set called "ungrouped stats".
​
​
Here you'll be able to see all the line protection data you've entered.
Using Hudl Beta we will go through all of the pass plays that we've tagged for the game we're scouting, and look at a few data sets:
Down & Distance
Formation
Field/Boundary
Using Hudl Beta makes it easy for us to sort what protection they're using, and in what situation they're using it.
Here we selected the BOB protection scheme that we identified (for this team), and we can see the following stats:
​
Now that we know their pass protection and when they're using it (down and distance-wise), we can then blitz their scheme properly.
How to attack each blocking scheme
Our main philosophy is to attack the running back in any full slide or ½ slide protections. Naturally, running backs aren't great blockers.
BOB schemes allow us to get creative with stunts and games, to hopefully confuse and disorient the offensive line.
Full Slide/Boot schemes allow us to bring edge pressure where we can hopefully deepen or force the QB to pull up.
We carry a catalog of blitzes into the season, however, we will only go into a game with 3-4 blitzes. This allows us to practice the blitzes that will work against the scheme that we're going up against. This has helped us get more run-throughs and mismatches against the offensive line that we face.
Using this data from Hudl Beta has allowed us to blitz more effectively, as we're dictating the matchups that favor our skillset.
Custom tags like these plug automatically into the Hudl Beta as you create them. Just click on the "Beta" icon at your home screen in Hudl to start going deeper into your game analysis.