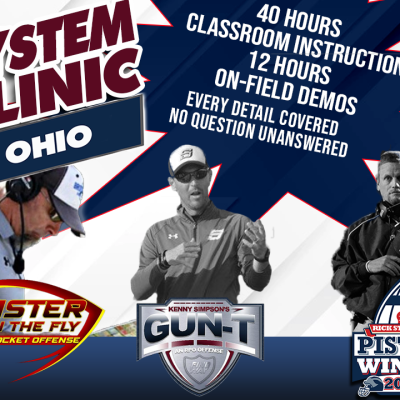 Location
Hamilton Township High School, Columbus OHIO
1105 Rathmell Rd, Columbus, OH 43207
Cost
And every coach that attends will get 20% off any of our system materials…
Attend Live - no recordings included
20% discount off recordings, courses, or playbooks purchases.
Attend Live - digital product included
includes recordings of Simpson's clinic in Batesville and 6 of Stewart's courses that are currently on CoachTube.
Kenny Simpson & Rick Stewart
4pm – Overview of GunT & Pistol Wing T
5:30p – Buck Sweep from Gun & Pistol
7pm – Adjusting QB & RPO Choices
4p – Trades, Shifts, Formations
5:30p – Simple 3-step Pass Game
Blair Hubbard & Rick Stewart
7pm – Teaching the Rocket Pitch
9pm Social at Casino next door to Host Hotel
SATURDAY APRIL 9 SCHEDULE
9am – WingT from 30 Form; incl Empty
10:15a – Dive: The best play in football 
11:30am – Unblocked Defenders on Jet, Midline & Veer
12:45p – Air Raid & Screens
9am – Drills & Pods
10:15am – RPO Drills & Structure
11:30p – Rocket Sweep from Shotgun
12:45p – Backfield Mesh plays off Rocket
4:15pm – Two Versions of Jet & Rocket
5:30pm – Slot, Shovel, TB, QB Counters
3p – Sugar Huddle & Wraparound Sally
4:15pm – Half Line Drill & Unbalanced Formations
5:30p – Belly from Gun & Pistol
8a – Play Action from Gun
9:30a – Game Film
10:30a – Q&A
8a – RPOs in Pistol Wing T
9:30a – Fast & Efficient Practice Planning
10:30a – Q&A
Coach Simpson has served at three schools as the Head Football Coach: Searcy High School, a 6A school in Arkansas in 2020.  Before Searcy, he was the Head Football Coach at Southside Charter.  Taking over a program that had won eight games in five seasons and had been on a 20+ game losing streak, Simpson has led Southside to the playoffs for four-consecutive seasons and won two conference titles in the past three seasons. For his efforts, he was named 4A-2 Conference Coach of the Year (2017), named to the as a finalist for Hooten's Coach of the Year (2017) and has been the All-Star Nominee for the 4A-2 (2016 and 2019). He was also selected to coach in the 1st FCA Texas-Arkansas All-Star Showdown (2021). Simpson's teams have qualified for the playoffs the past 5 consecutive seasons
Coach Stewart has been a football coach for 27 years, 16 as a head coach, and Stewart has been to 2 Section Finals in California and 2 District Finals in Pennsylvania.
He took FOUR losing programs to the playoffs in two different states, without ever having a scholarship athlete!!
McFarland, a school of 600 students with no weight room, had lost 24 games in a row. Stewart served as offensive coordinator and they went 8-2 with only 3rd playoff berth in 75-yr school history
Stewart left McFarland for 3 years and they went 3-26 during his absence. He returned as head coach to make the playoffs in Year 2. (the Disney movie, "McFarland", starring Kevin Costner is the same town and school)
Broke 0-27 losing streak at Corcoran, a school with 900 students, winning an undefeated league title in Year 2;
Porterville, a large of 2,000 students, won 40 games in 5 years, including back-to-back section runner-ups at a that had won 8 games in the 5 years prior to his arrival, including the first playoff victory in the school's 110-year history.
Pennsylvania. Stewart went to a different state to coach a team that had gone 3-7, 2-8, and 4-6. The school had only won 9 games twice: 1982 and 2009.   Stewart's teams have went 9-2, 12-1, and 11-2, winning a District title and being District runnerups.  Led the entire state in total offense.
Blair Hubbard is one of the most successful and winningest coaches in the state of Colorado. Over a 20 year career, he has won 209 games, including 35 playoff wins.  He has led three different programs to the state playoffs, including SIX state championship games, a Semi-Final finish, and 14 League Championships. Hubbard has been named the Colorado state coach of the year twice.
He has spoken at over 30 national football clinics, has helped install his offensive system at many schools around the country, and even some collegiate teams have sought him out for install advice on his system.  Five schools won championships in their 1st year running the system, including 3 state titles.  Those five schools overall record in their first year was 59-5.
Two time Ohio Coach of the Year Steve Channel has an overall record of 197-89. 
Having coached 37 collegiate players, Channel coached Edgewood Ohio for 21 seasons, winning 152 games, making playoffs 10 times, and got to the state title game.
He then took over Miamisburg Ohio, a struggling program that had not had a winning season for 15 years and had only won 6 games in the prior 3 seasons. That immediately changed when Channell switched Miamisburg to a Wing-T offense that produced a 7-3 debut season. That signaled the start of Vikings football relevancy that produced four consecutive playoff teams and a combined 52-24 overall record under Channell.
12 Regional Championships | 6 State Final Appearances | 2 State Titles | 51 All-State Players | 93 Collegiate Signees | Nike Premier School
Jim McKee of Scott County High School in Kentucky has been a head coach for 27 years, 25 of them at Scott County.  Playing in the highest classification, McKee's Cardinals had 12 consecutive seasons with 10 or more wins, including a perfect 15-0 in 2013.  His 229 wins is 25th most in Kentucky history.
Hampton Inn and Suites Columbus Scioto Downs

5950 S. High Street Columbus, Ohio 43137 USA

I was able to secure a great rate and you can book your room for just $129/night by clicking

here

.

There is a casino connected to the hotel.  

All the speakers will be at the Friday night social at the casino to answer questions