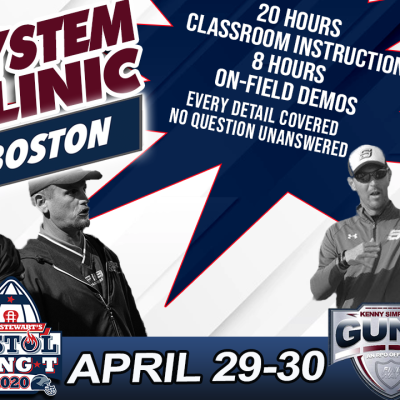 4pm – Overview of GunT
5:30pm – Adjusting QB & RPO Choices

7pm –  Knuck if you Buck
4pm – OLine Drills & Techniques
5:30pm – Half Lines & PodWork

7p –  Belly Family Backfield Footwork
8am – Drills & Pods
9:30am –

Belly, Trojan, RPO on Bags

11am – RPO Drills & Structure

 
8am – 

Short Yardage & Red Zone

9:30am – 

RPOs in Pistol Wing T

11am –  

Fast & Efficient Practice Planning
2pm – Belly
3:30p – Jet Series

5pm –  Counter

6:30p – Play Action from Gun
2pm – Unblocked Defenders on Jet, Power
3:30p – Midline & Veer, as easy as ABC

5p –  Buck Family vs Odd & Even

6:30p – Screens, Sally, Sugar Huddle, & 70 Formations
Coach Simpson has served at three schools as the Head Football Coach: Searcy High School, a 6A school in Arkansas in 2020.  Before Searcy, he was the Head Football Coach at Southside Charter. Taking over a program that had won eight games in five seasons and had been on a 20+ game losing streak, Simpson has led Southside to the playoffs for four-consecutive seasons and won two conference titles in the past three seasons. For his efforts, he was named 4A-2 Conference Coach of the Year (2017), named to the as a finalist for Hooten's Coach of the Year (2017) and has been the All-Star Nominee for the 4A-2 (2016 and 2019). He was also selected to coach in the 1st FCA Texas-Arkansas All-Star Showdown (2021). Simpson's teams have qualified for the playoffs the past 5 consecutive seasons.
Coach Simpson wrote his first book in 2019. He has since released 7 other books. Find A Way: What I Wish I'd Known When I Became A Head Football Coach, he has been a three-time best seller on Amazon in several categories.
Coach Stewart has been a football coach for 27 years, 16 as a head coach, and Stewart has been to 2 Section Finals in California and 2 District Finals in Pennsylvania.
He took FOUR losing programs to the playoffs in two different states, without ever having a scholarship athlete!!
McFarland, a school of 600 students with no weight room, had lost 24 games in a row. Stewart served as offensive coordinator and they went 8-2 with only 3rd playoff berth in 75-yr school history
Stewart left McFarland for 3 years and they went 3-26 during his absence. He returned as head coach to make the playoffs in Year 2. (the Disney movie, "McFarland", starring Kevin Costner is the same town and school)
Broke 0-27 losing streak at Corcoran, a school with 900 students, winning an undefeated league title in Year 2;
Porterville, a large of 2,000 students, won 40 games in 5 years, including back-to-back section runner-ups at a that had won 8 games in the 5 years prior to his arrival, including the first playoff victory in the school's 110-year history.
Pennsylvania. Stewart went to a different state to coach a team that had gone 3-7, 2-8, and 4-6. The school had only won 9 games twice: 1982 and 2009.   Stewart's teams have went 9-2, 12-1, and 11-2, winning a District title and being District runnerups.  Led the entire state in total offense.

85 American Legion Hwy
Revere, MA 02151
781-485-3600
$119/night ($267 for two nights)